Welcome fall with this quick apple galette topped with a dreamy drizzle of peanut butter! It's the perfect easy, yet elegant dessert.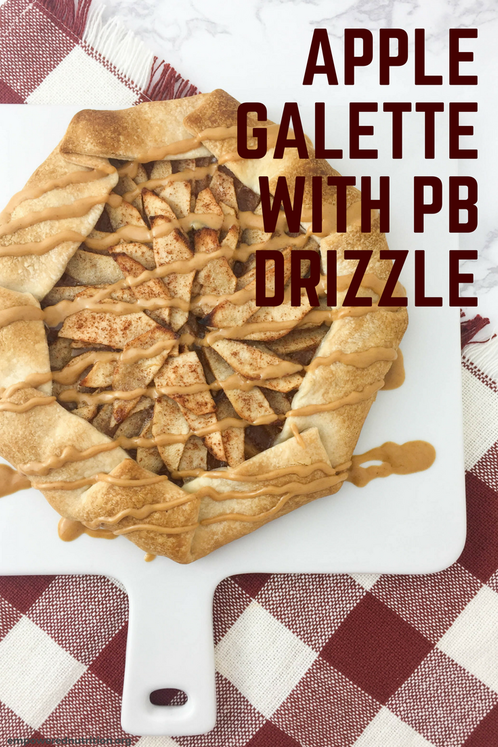 Apple season is in full swing and I'm excited! I love all things fall – the changing leaves, apples, fun fall activities, baking, & my birthday! I love being able to go apple picking or buy a bunch of local apples from the farmer's market this time of year. We hosted a small farmer's market on campus this week, so I loaded up on all the local apples I could carry home. I can't wait to make some applesauce and I'm really curious to try my hand at apple butter this fall. Has anyone ever made homemade apple butter? I think it would make an awesome morning snack on some crusty, toasted bread!

My go to fall snack typically involves apples & nut butter because I love that sweet, crunchy, salty flavor combo. I knew I wanted to add another apple recipe to the blog & I've been in a baking mood, but not really feeling like spending a ton of time in the kitchen. With that, I thought a galette would be perfect! It fit the bill of being easy, quick to make, I could put apples in it, I could include peanut butter, and I knew it would be an easy win! ​​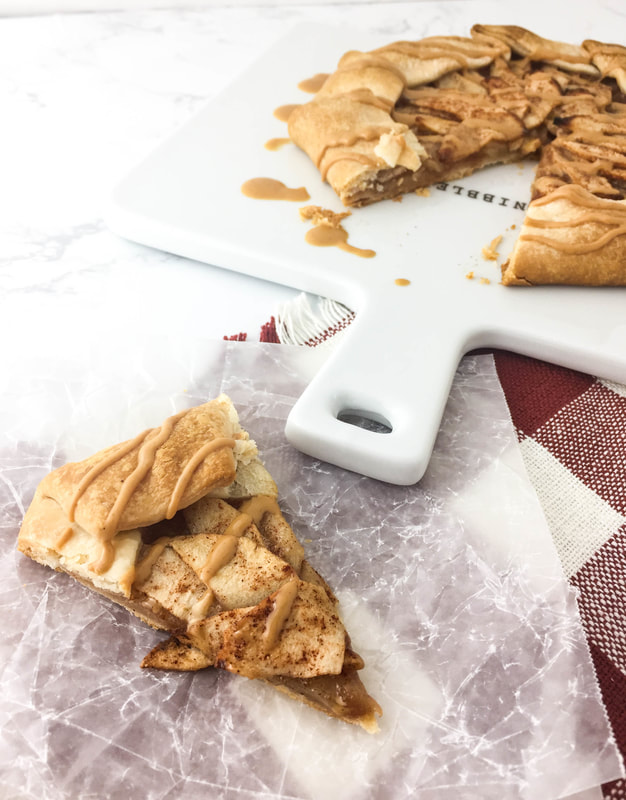 ​This apple galette is simple enough to make on a weeknight, yet elegant enough to serve to guests for dessert. I whipped it up last night after work and it brightened up my nightly sweet treat perfectly. The peanut butter drizzle really takes it to the next level because it combines that childhood favorite snack and just makes the dessert look fancy! Plus, I love the rustic, yet fancy look that a galette gives you. It literally takes no time to prepare, the longest thing is slicing up the two apples and waiting for it to bake. My tip for an easy, homemade dessert – make a galette! Slice up some fruit, toss it in some spices & honey, throw it on top of a piecrust and you have dessert! I actually ended up using a store bought piecrust, which I have no shame in using! They're easy, they taste good, & have a nice flakiness to them. If I had a little more time, I would've made my own because pie crust is pretty simple, but I was in a mad rush to clean my apartment since my parents are coming into town to celebrate my birthday.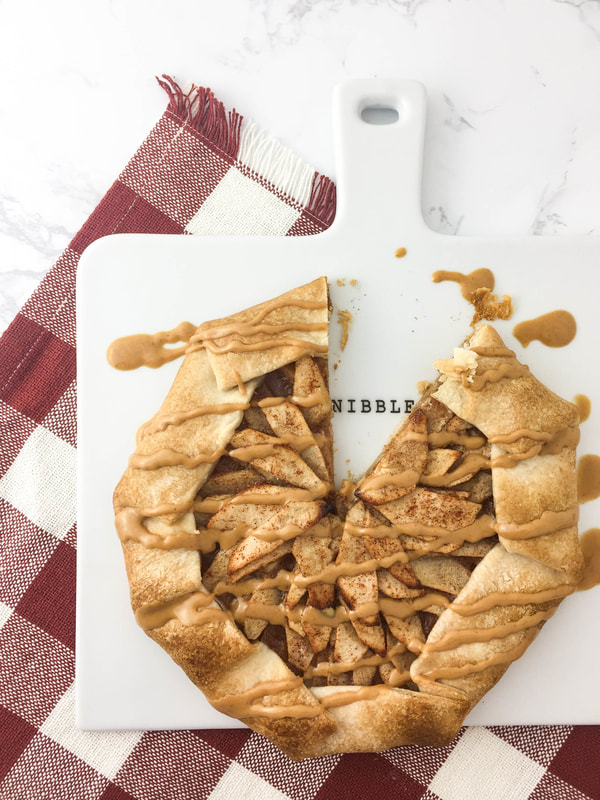 ​I'm so excited to finally see my parents for the first time since moving to Charlotte. I have some fun things planned, but if any Charlotte readers out there have any recommendations, I'm all ears! I'm just excited to eat some delicious food, catch up with my family, and celebrate my birthday aka eat allll the desserts!
---
Apple Galette with Peanut Butter Drizzle
Ingredients:
2 medium apples
1 Tbsp honey
½ tsp cinnamon
1 Tbsp cornstarch
1 9-inch piecrust
1 Tbsp cold butter
Crazy Richard's peanut butter

Directions:
Preheat oven to 425.
Peal and thinly slice apples.
Toss in apples with honey, cinnamon, and cornstarch in a mixing bowl.
Place piecrust on baking sheet. Place apple mixture in center of dough, leaving about 2 inches around the outer edge. Fold edge up.
Put butter chunks evenly around on top of apples.
Bake for 30-35 minutes until crust is golden brown and apples are tender.
Once cooled slightly, drizzle peanut butter on top of galette.