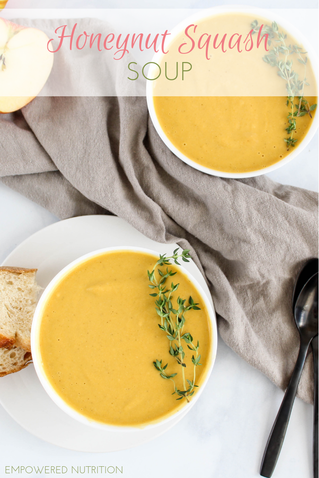 Ingredients:
2 honeynut squash, peeled and cubed (or two 12 oz bags of pre-cut butternut squash)
2 medium apples, cored and cubed
2 small sweet potatoes, peeled and cubed
1 small onion, peeled and roughly chopped
Drizzle of olive oil
Salt and pepper, to taste
¼ cup pumpkin seeds (pepitas)
4 cups low-sodium chicken stock
1 tsp nutmeg
½ tsp cardamom
¼ cup whole milk plain Greek yogurt

​Directions:

Preheat oven to 450 degrees.
Toss squash, apples, potatoes, and onion in olive oil, salt, and pepper. Spread in one layer on a baking sheet. Roast for 30-40 minutes, until fork tender. Remove from oven and set aside.
Place pumpkin seeds and a few splashes of stock in blender. Blend well. Place roasted veggies, spices, and remaining stock into the blender. Blend until smooth. Stir in yogurt. Serve immediately or heat in a pot on the stove for a hotter temperature soup.
Store in the refrigerator.
Makes 6-8 bowls of soup.