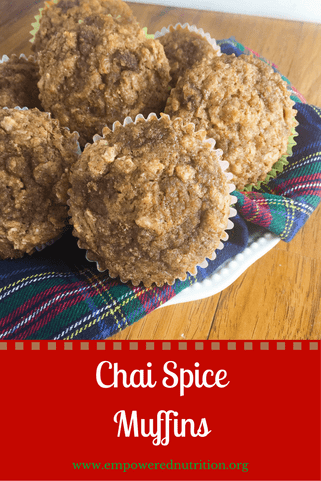 Ingredients:
3/4 cup whole wheat flour
1 tsp baking powder
1/2 tsp baking soda
1/4 tsp salt
3 tsp Chai Spice Mix*
1 cup rolled oats
1/2 cup 1% milk (or milk alternative)
1 cup unsweetened applesauce
1 egg
4 T coconut oil, melted
1/4 cup pure maple syrup
1 tsp vanilla

*Chai Spice Mix:
4 tsp cinnamon, 2 tsp ground ginger, 1 tsp cardamom, 1/2 tsp cloves
Crumb topping:
1 T coconut oil, melted
4 T brown sugar
1 T whole wheat flour
1 tsp chai spice mix

Directions:
Preheat oven to 375 degrees & line muffin tin with liners.
Combine dry ingredients (flour through spice mix) in large bowl.
Combine oats through vanilla in another bowl.
Make a well in the dry ingredients & pour wet ingredients into it, folding with spatula until just combined (don't overmix!).
Pour batter into muffin tin & top with crumb topping.
Bake for 15-20 minutes, or until toothpick comes out clean.
Let cool & enjoy!
Makes 12 muffins.