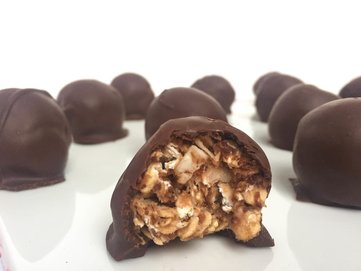 ​
ngredients:
1 cup pitted dates (soaked in water for 15 minutes)
¼ cup water
1 ½ cups rolled oats, divided
1 cup fresh or frozen strawberries
¼ cup ground flaxseed
1 T coconut oil
1 tsp vanilla
¼ cup flaked coconut
1 cup dark chocolate chips, melted

Directions:
Place water, dates, & strawberries in blender & blend until smooth (or to your preferred texture).
Add ¼ cup of oats, ground flaxseed, coconut oil, & vanilla & pulse until combined.
Transfer mixture into a mixing bowl.
Add rest of oats & the coconut flakes. Mix with spatula until combined.
Refrigerate mixture for 30 minutes.
Form into 1-inch balls.
Melt dark chocolate chips. Dip granola balls into chocolate. Let set until hardened.
Store in refrigerator up to 1 week.