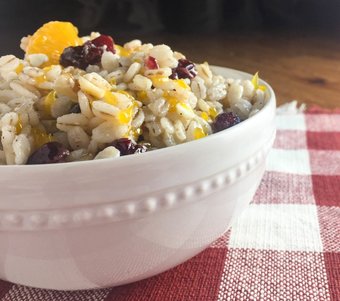 Ingredients:
2 cups barley, cooked
½ cup dried cranberries
1 can mandarin oranges, drained & rinsed
½ cup chopped walnuts
2 T apple cider vinegar
2 T olive oil
¼ cup lowfat or part-skim feta cheese
Salt & pepper, to taste

Directions:
Add the barley, cranberries, mandarin oranges, vinegar, olive oil, salt & pepper to a mixing bowl & gently toss.
Add feta & toss again.
Chill for 30 minutes before serving.
Serve as side dish or yummy lunch option.