Add some fresh, summer flavor to your dinner table with this cilantro lime marinate chicken topped with strawberry mango salsa served with homemade tortilla chips.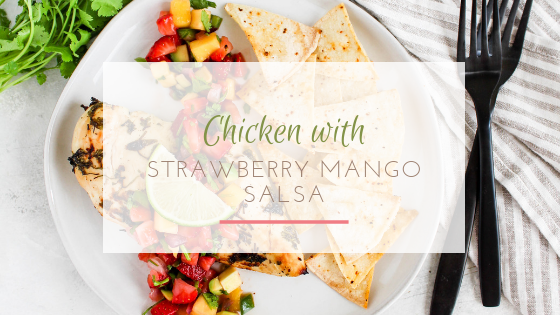 We're in the middle of summer and I don't know about you, but quick and easy dinners are basically the only thing coming out of my kitchen – especially if it's a weeknight. When it's summertime, I just can't get enough of fresh fruit. There's nothing better than a cold fruit salad on a hot summer night.
So since I've been wanting all the fruit, I decided I would try my hand at a fruit salsa. I do have my
pineapple black bean salsa
recipe (which is an awesome, easy party snack), but I was looking to add something a little sweeter to my recipe index. Strawberries are my all time favorite fruit and they pair well with juicy mango, which made the perfect combination to top a piece of chicken with.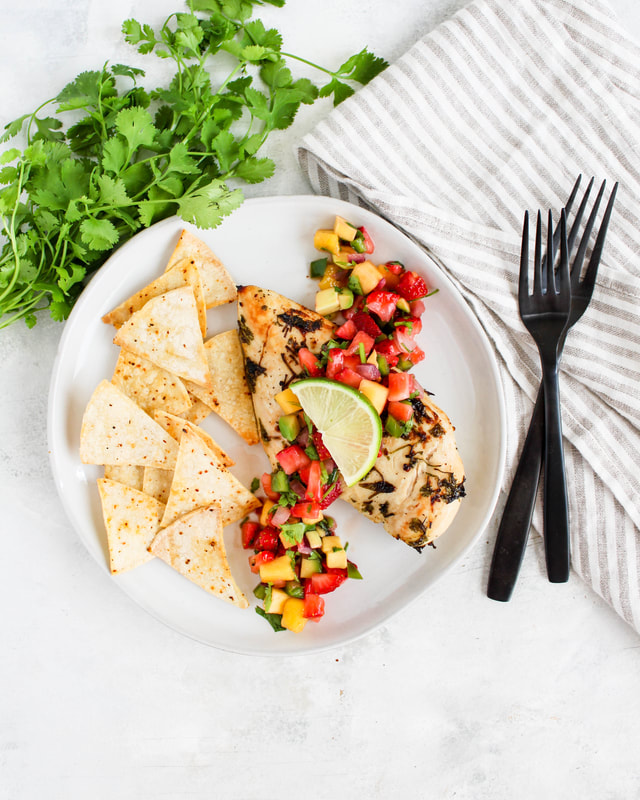 Tips for Salsa Making
Add an acid. This lightens and brightens the flavors. When making a fruit salsa, stick with a citrus juice as your acid. When using tomatoes, try white vinegar or red wine vinegar.
Fresh herbs are best. Since salsa is all about fresh flavors, you want to stick with those fresh herbs. Save your dried herbs for dishes that involve cooking.
Mix sweetness with a little bit of tang. Adding red onion gives another tangy flavor to the salsa which balances out the sweetness of the fruit and honey.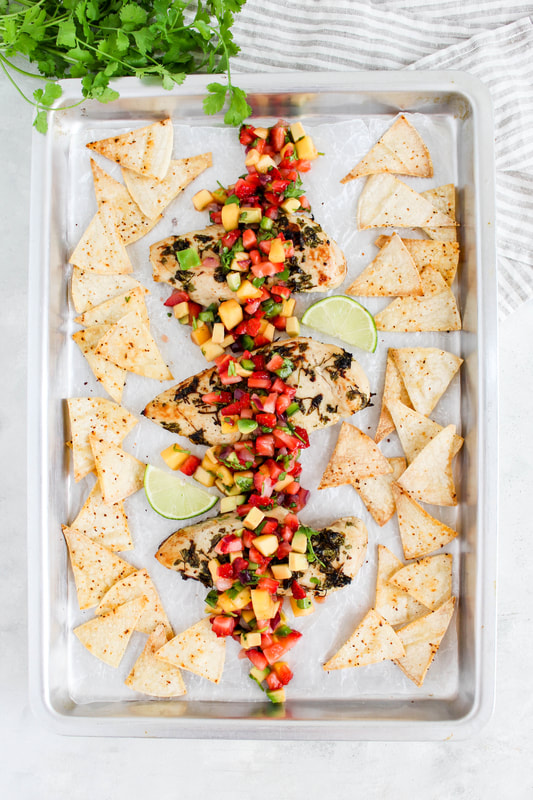 Tips for Marinating
Mix everything right in the bag for easy cleanup. This way you don't have to dirty another dish!

Marinade for at least 1 hour or overnight. Marinades are effective in as little as one hour, but if you want to break up the work you can leave them in the fridge overnight.

Add water and salt. Adding these makes the marinade sort of like a brine so you get even more flavor and juiciness.

Pat dry. This is essential for creating a crispy outer layer and for preventing flare ups or burning the meat if you're grilling it.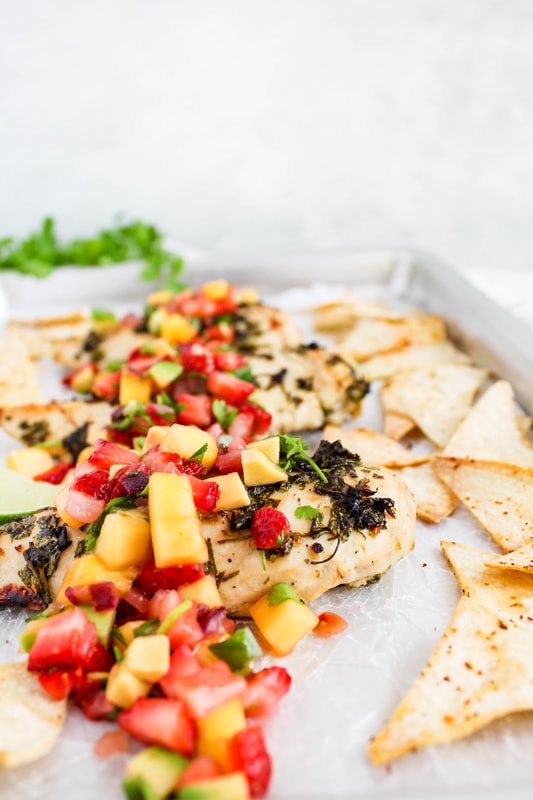 The cool part about this meal is that you could make everything on the same sheet pan. When baking your chicken, about 5 minutes into the cooking time, add the cut up and seasoned tortillas to the pan and they will crisp up really nicely to serve with your chicken.
---
Sheet Pan Chicken with Strawberry Mango Salsa
Ingredients:

Marinade
½ cup olive oil
½ cup freshly squeezed lime juice
¼ cup water
1 clove garlic, minced
1 tsp honey
1 tsp salt
½ tsp ground black pepper
¼ cup chopped cilantro
Salsa
2 cups diced strawberries
1 mango, diced
¼ cup diced red onion
½ jalapeno, finely diced
1 tablespoon honey
½ of a lime, juiced
¼ cup chopped cilantro
Other ingredients
1 lb chicken breasts
White corn tortillas
Olive oil
Tajin seasoning (optional)
Directions:
Combine marinade ingredients in a large ziploc bag. Add 1 lb of chicken breasts to the bag. Let marinade for 1 hour.
Cut up your tortillas into triangles. Toss in with a drizzle of olive oil and sprinkle seasoning evenly over the chips. Next, prepare your ingredients for the salsa. Preheat your oven to 375 degrees.
Combine all the salsa ingredients in a large bowl. Mix well. Keep in fridge while chicken is cooking.
Take chicken out of marinade. Pat the chicken dry before placing in the middle of a greased sheet pan. Place pan in oven for 5 minutes. Take pan out of oven and arrange tortillas around the chicken, making sure not to overlap the chips.
Bake chicken for an additional 15 minutes, or until the internal temperature reaches 165 degrees. By this time, your chips should be crispy. If not, take chicken off pan and let the chips finish crisping.
Serve chicken topped with salsa with your chips on the side.
---