Discover 5 ways canned fruits and veggies fit into a healthy lifestyle.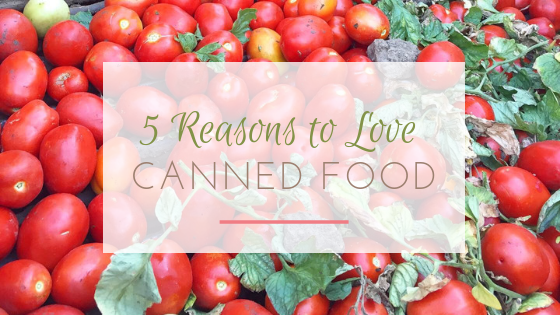 My travel on this trip was sponsored by Pacific Coast Producers and Tomato Wellness, but this post is not. All thoughts and opinions are my own.
Growing up in a very rural Upstate New York town, canned foods were a staple in our pantry. We live 40 minutes from the nearest grocery store or farmer's market and the weather doesn't really allow for a long growing season. Because of that, my parents went grocery shopping one time a week and then relied on things like canned fruits to supplement some of the fresh items we bought at the store. Being from Upstate New York, where you can't get a fresh tomato in the dead of winter, we also depended on canned tomato products for a lot of different uses. We were a big pasta family, so we used at least one canned tomato product each week. My classmates and friends also relied on canned goods because of their convenience, cost-effectiveness, and great taste.
When I got the opportunity to attend the Heart of CA Field and Orchard Tour in Sacramento last week, I knew I had to attend to see firsthand how our canned produce gets from field to can. As a dietitian, it's my goal to be able to bridge the gap between our farmers and consumers, provide facts and knowledge, and break down the barriers you may have around certain foods. California is one of five regions in the world that have a Mediterranean climate, which makes it the perfect place to grow fruits and veggies. Pacific Coast Producers (PCP) is an agricultural cooperative, meaning it's owned by its farmer's. They have more than 160 family farms in Central and Northern California that specialize in growing food for canned private label products. So your Great Value brand at Walmart and the store brand at your favorite grocer, was most likely produced by PCP.
I'll take you along on what I learned last week and share how canned foods can fit into your healthy lifestyle.
Canned produce is picked at the peak of nutrition

Myth: Canned food is not as healthy as fresh.

Fact: The fruits and veggies that are grown and harvested to be canned are picked at their peak of nutrition, ripeness, and taste and are then canned in less than 5 hours. Due to this quick turnaround, it doesn't leave any time for the produce to lose nutrients or freshness. Plus, the canning process actually increases the amount of lycopene found in tomatoes, making canned tomato products and even more nutrient dense option. Lycopene is an antioxidant that's great for fighting inflammation, reducing risk of prostate cancer, and slowing atherosclerosis. ​
While out in the tomato field at the Muller Ranch we learned that about 90% of the tomato fields that are producing canned goods are 16 miles or less from the cannery. So the statement that these tomatoes go from field to can in 5 hours or less, is more often around 2-2 ½ hours time! Not only do we want to get the tomatoes into cans as quickly as possible for freshness, flavor, and nutrition, but also because when all those tomatoes are sitting in the truckload in the hot sun for too long, they start to explode since they are made of 94% water and soluble solids.
​
Another thing to mention is that all of those canned goods you see on the shelf at your grocery store were produced in a 90-day span. We all know that most fruits and veggies have a defined growing season, so when it's harvest time everyone is working around the clock to lock in the fresh flavor and nutrition into these cans. The canning season runs from July 4 to the end of September. The Oroville Fruit Cannery produces upwards of 2 million cans and 2 million fruit bowls per day and the Woodland Tomato Cannery processes about 300 truckloads (26 ½ tons in each truckload) per day. So these farmers and cannery workers are putting in the hard work in a short period of time so we can all enjoy a juicy peach or flavorful tomato during February.
Canning is a simple process

Another huge myth surrounding canned food is that there are a bunch of additives and preservatives in them. After seeing the canning process of peaches at the Oroville Cannery and tomatoes at the Woodland Cannery, it was very apparent that canned produce is literally just that – produce. There are no preservatives added to the cans because the canning process is literally what preserves the produce. For peaches, pears, and fruit cocktail, there's just the fruit and a liquid. That liquid can either be straight water, water and sucrose, pear juice, or water and sucralose.

Myth: Canned fruit has too much added sugar in it.

Fact: Fruit that is packed in sugar (heavy syrup or extra light syrup) does not have a higher sugar content than fruit that is packed in water because the osmosis in stabilizes it. When fruit is packed in water, the natural sugar in the fruit actually leaches out of it resulting in a less desirable tasting product. So the reasoning behind packing fruits in sugar is to maintain flavor and desirability and also does not affect the sugar content.
For tomato products, they may add some olive oil and spices and a little salt at times, but there are no preservatives and additives being put in the can. The only things they are adding are to make different recipes based on what each grocer (client) wants.
Myth: Canning is this whole big process, it's all mechanical, it can't be real food.

Fact: All of the peaches used in canned goods are handpicked. Each tree produces about 1000 pieces of fruit and the farmers pick the whole tree in one go. One person picks about eight to ten 1000 lb bins of peaches in a day. The farmer's also take leaf samples to ensure that each tree is getting the proper nutrition it needs to produce great fruit. In the tomato field, most tomato plants are planted by transplant (or from seedlings). All of this is done by hand. At the end of tomato season, about 20 million plants will have been planted, all by hand. The tomatoes are mechanically harvested by a machine that separates the plant using a color sensing technology. Essentially, it separates the green from the red. In the canneries, there is a large amount of technology used to separate, peel, chop, etc. But there is still a fair amount of hand sorting being done to ensure a great product ends up in your can.

But what about pesticides? I think there is a misunderstanding when it comes to farming that the general consumer thinks all farmers are just flying over their crops with a 747 dumping pesticides on their plants. A lot of farmers are implementing new ways to handle pest control with their crops that doesn't involve the use of widespread chemicals. At the peach orchard we visited, the farmers are using pheromone emitters that essentially let off female fruit moth pheromones that confuse the males, making them leave. This farmer shared that he thinks most farms are moving more towards these types of pest management techniques and when you have to spray, they call pest control and are only using the pesticides when absolutely necessary.

Canned goods are produced sustainably

A lot of times farming gets a bad wrap for using too much water or creating too much waste. The farmers and cannery operators shared how they produce these large volumes of food while keeping waste down. At both canneries, any fruit byproducts get sent to local cattle and pig farms to be used as feed. The pits from the peaches are sent to cogeneration plants be burned for electricity. At the Oroville Cannery they pump their waste water to a ranch they own about 7 miles away to use as irrigation water for hay for cows. The farmers and canneries have these feedback loops when it comes to sustainability to try to use everything possible and waste as little as they can.

The main reason canned goods are so sustainable are due to their packaging. Steel cans are the most recyclable food packaging on our grocery store shelves. They can be recycled indefinitely. 80-90% of all steel ever produced is still in use today. A lot of times we don't realize we're recycling these cans because we don't have to separate them out of our regular trash since they use magnets in landfills to do so.

But what about BPA? PCP does not use BPA to line any of their cans, and made this shift almost 10 years ago. About 90% of canned food on the market does not use BPA to line cans anymore.

Canned produce is convenient

Think of all the times you get home from work or a busy day and you want to be able to put a delicious, nutritious meal on the table quickly. This is where your canned produce really saves the day. You can add canned tomato products to so many different meals to boost nutrition and flavor. You could serve canned fruit as a side dish or make a quick dessert out of it, all giving you a great taste and adding good nutrition to what you were already going to have.

Canned foods have sustained people for over 200 years

Our grandparents and their grandparents were canning foods at home in order to serve their families nutritious produce during the winter months and make the most out of their summer harvests. So why do we feel like we shouldn't do the same? Luckily today, we don't have to can all of our own food in order to enjoy fruits and veggies all throughout the year, we can pick up a can on our grocery store shelf (or have them delivered to you!). Who doesn't want to save time and money, increase flavor, and still be able to serve a food packed with nutrition to our family?
Share your thoughts on canned foods below!