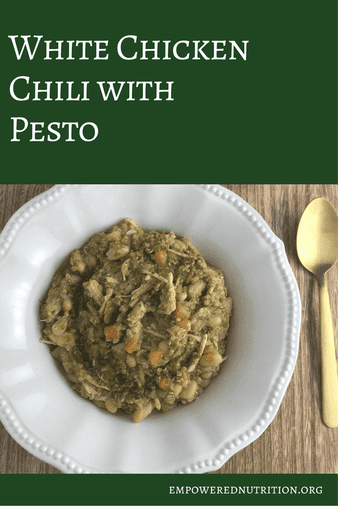 Ingredients:
1 lb chicken breasts
1/2 bag (8 oz) dried great northern beans
1/2 large onion, chopped
1 cup carrot, finely chopped
1-4 oz can green chiles
2 tsp minced garlic
1 1/2 tsp chili powder
1 1/2 tsp ground cumin
14 oz reduced sodium vegetable broth
Salt & pepper to taste
1 cup cooked quinoa
3 T pesto

Directions:
Rinse beans.
Place ingredients, chicken through salt & pepper in crockpot.
Cook on low for 6-8 hours, until beans are tender & chicken is cooked through.
Before serving, cook quinoa according to package directions. Add 1 cup cooked quinoa to chili.
Stir in 3 T of pesto & serve. Garnish with mozzarella cheese.