This sweet, Southern muscadine crisp is the perfect way to kick off your fall baking!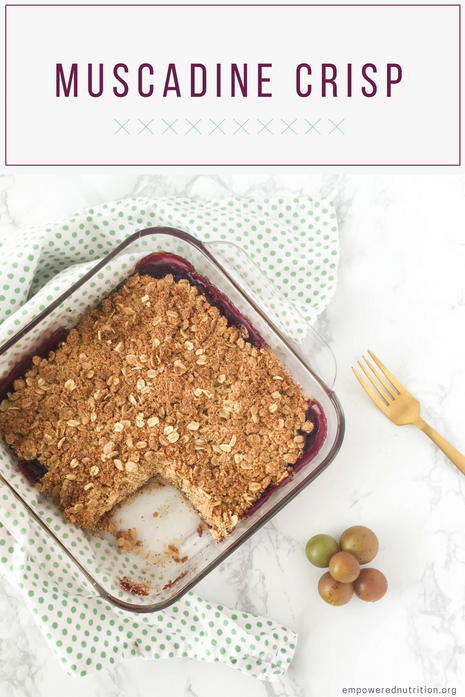 By posting this recipe I am entering a recipe contest sponsored by SPLENDA® Sweeteners and am eligible to win prizes associated with the contest. I was not compensated for my time.
​Since moving, I've been really into to trying out new foods & ingredients that I typically couldn't get living up North. Every week at the grocery store, I've seen muscadine grapes & been super curious about them. One of the first truly Southern things I bought at the grocery store after moving was muscadine wine (priorities, am I right?!). So I knew these grapes were sweet & tasty, but was unsure what one would do with the actual grapes. After searching Pinterest real quick, I learned that due to the tough outer skin, muscadines are necessarily the best for table eating, but better to be used in baked goods, jellies, & wine. Muscadine grapes are sweet & taste similar to a concord grape. They come in bronze, red, & black varieties and are typically available in the South from August to October.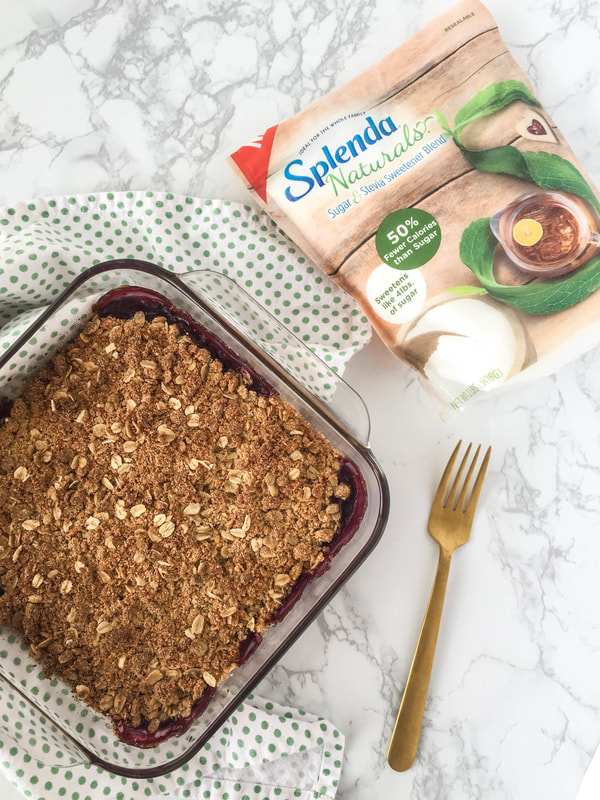 ---
---
​I went back & forth between making a pie or a crisp (since I love both), but the crisp won out. The temperatures are still pretty hot here in Charlotte, but it's starting to get a little cooler at night. This means baking season is quickly approaching, which I love! So you may see an influx of baked goods from me.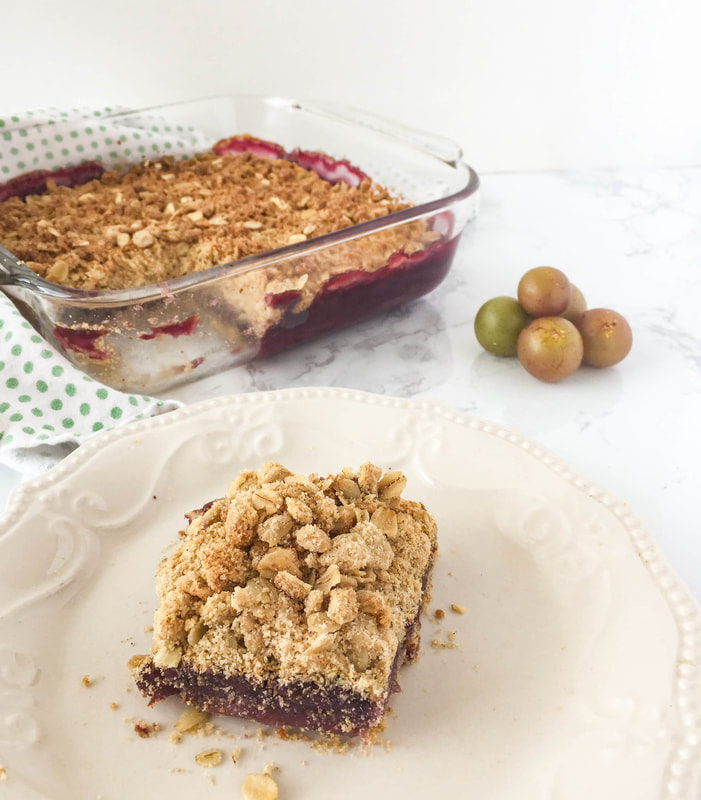 ​Typically I opt for using real sugar in my baked goods because it leaves me more satisfied & everyone should be able to enjoy a "real" dessert. But, I like the fact that SPLENDA® has come out with this natural blend of sugar & stevia. By using a blend of natural sweeteners, there's no bitter after taste & you can use less because a 1/2 teaspoon of SPLENDA® Naturals Sugar & Stevia Blend gives you the same amount of sweetness as a full teaspoon of traditional sugar. So while I'm not into counting calories, I do still like to limit my use of added sugars to a point.
While a traditional muscadine baked good is made with just muscadines, I decided to use half muscadines & half concord grapes. This is partly because my grocery store only had bronze muscadines & I wanted to incorporate some of that vibrant purple color that would come from either red or black muscadines. I also used
Kodiak Cakes
as part of the crumbly topping. You could sub in whole wheat flour or Bisquick if that's what you have on hand. Another plus to making anything with muscadines is that your house ends up smelling like Welch's grape juice, which is awesome!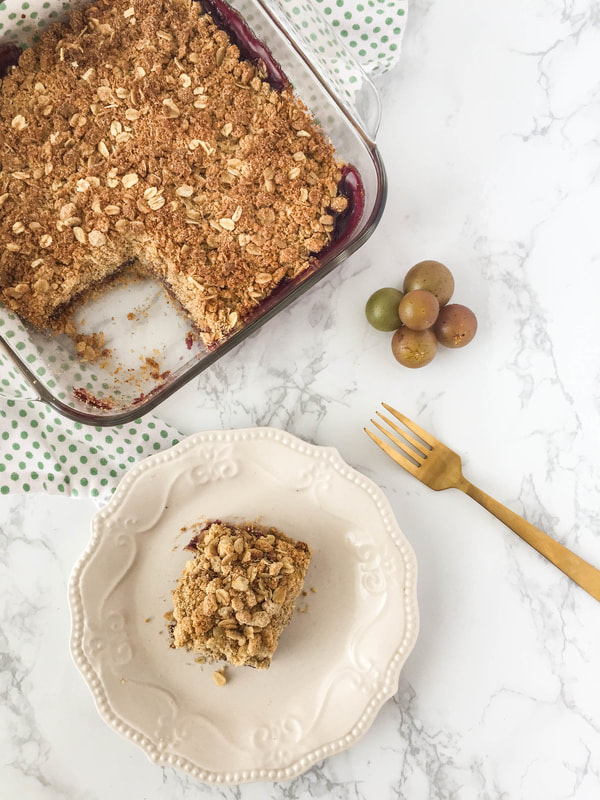 ​Even though you don't have to do any slicing of fruit with this crisp, it's still a little time intensive because you have to separate the pulp from the skins of the grapes & it has a fairly long cooking time due to boiling the filling & baking. But it's well worth the wait because this sweet dessert is soon to be an early fall favorite in your house.
Be sure to click on the link at the bottom of the page to check out all the other recipes using ​SPLENDA® Naturals Sugar & Stevia Blend!
---
Muscadine Crisp
Ingredients:
3 cups bronze muscadine grapes
3 cups concord grapes
1 ¼ cups water, divided
1/2 cup SPLENDA® Naturals Sugar & Stevia Blend, divided
¼ tsp baking soda
¼ cup cornstarch
3/4 cup Kodiak Cakes flapjack mix*
3/4 cup rolled oats
4 Tbsp (1/2 stick) butter, melted

Directions:
Rinse grapes under cold water. Preheat oven to 350 degrees.
Separate pulp from skins by squeezing over small saucepan. Place pulp in small saucepan & skins into medium saucepan.
Add ½ cup water to each saucepan & bring to a boil.
Add 1/4 cup SPLENDA® Naturals Sugar & Stevia Blend to skins only.
Reduce heat on both saucepans & simmer for 5-6 minutes, until pulp begins to break down.
Remove the pulp from heat & strain through sieve into saucepan with skins in it, discarding solids & seeds.
Add baking soda to filling mixture, stir, & simmer. (The mixture will foam up & turn green for a couple seconds, this is normal)
Combine ¼ cup water with cornstarch, stir until smooth. Add to filling mixture. Bring back to a boil. Remove from heat.
In a mixing bowl combine Kodiak Cakes mix, oats, 1/4 cup

SPLENDA® Naturals Sugar & Stevia Blend. Add melted butter & stir until crumbly.

Pour filling into greased 8 x 8-inch pan. Top with crumbly mixture.
Bake for 40 minutes, until top is golden brown.
Let cool completely before serving.**
Notes:
*May substitute with whole wheat flour or Bisquick mix
**Make sure to let cool completely or the crisp will be too soft & runny
Store in fridge up to 5 days.
---