Calling all everything bagel lovers! This savory bread pudding is for you! Turkey sausage, spinach, cream cheese, & everything bagel flavors come together to form the perfect make ahead breakfast for back to school season.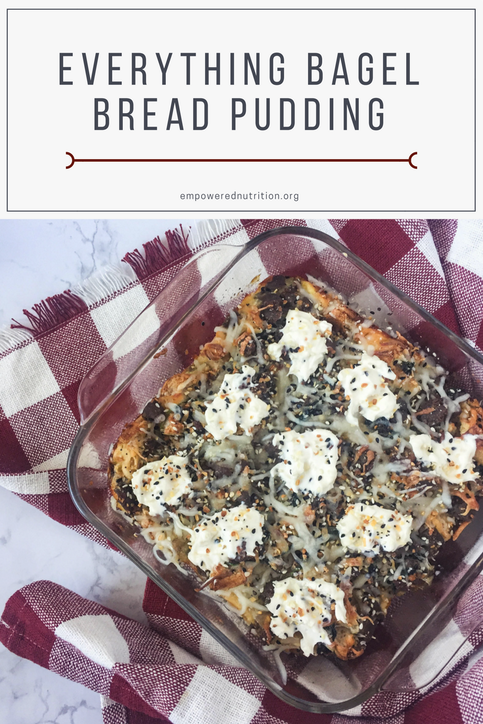 ​About a month ago I moved to Charlotte & finally made it into the 21st century…I now live about 15 minutes away from a Trader Joe's! So while I'm getting myself up to date with all the fabulous Trader Joe's products I've only been able to experience through Instagram, I've been dreaming up recipes to try with these tasty items.
One of the top products on my list was the Everything But The Bagel seasoning. So a couple weekends ago, when I went to TJ's I threw one in the cart. I had only tried it sprinkled on top of a bagel or toast with cream cheese, but when this month's Recipe Redux challenge was announced, I knew I could manage to work this seasoning into a recipe.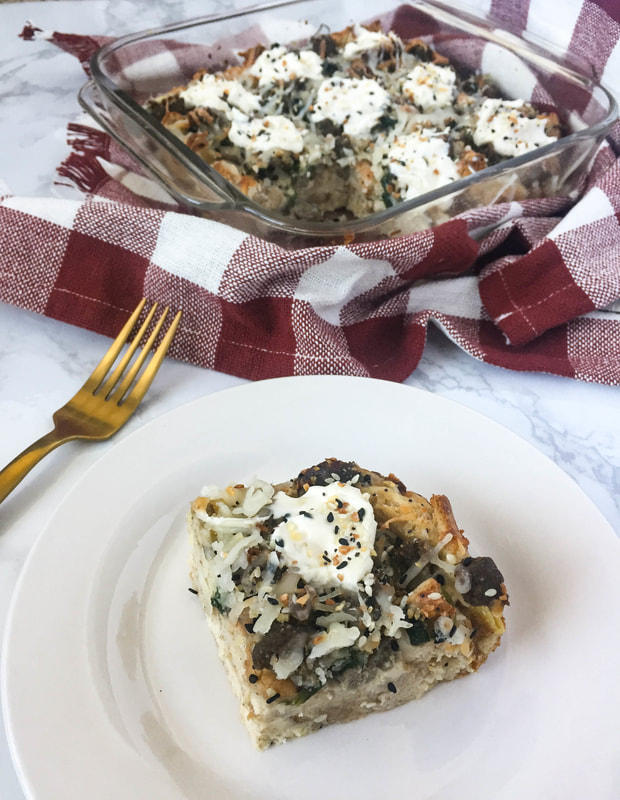 ​Since it's back to school time, our challenge for August is to show new takes on savory or dinner-inspired dishes for breakfast. Now I'm not going to lie, this one was a challenge for me! I'm all about the traditional sweet breakfast foods. For some reason when I wake up, I just want those sweet, simple flavors & then I like to work my way up to a more flavorful, seasoned meal at dinner. But that's why I love being a part of this challenge group because it really forces me to think outside the box & keep the creativity flowing. Because I was finally armed with my Everything But The Bagel seasoning, I decided it would be the perfect addition to a savory breakfast dish.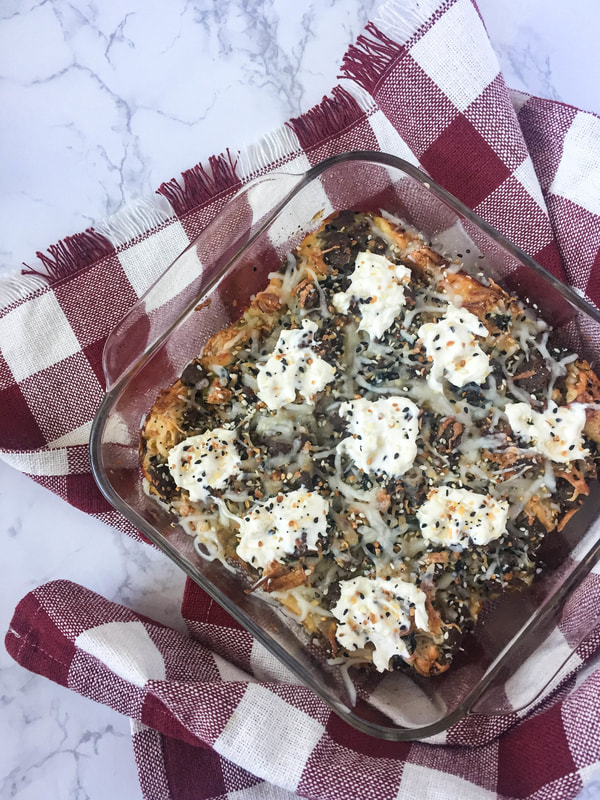 I like to make breakfast as easy as possible, so make ahead options are key. One of my go to make ahead breakfast items is a French toast casserole of some sort. I also love bread pudding, so I wanted to combine these two to make a savory option. That's when I was hit with the idea to make a savory bread pudding using bagels & kick it up a notch with some delicious toppings, cream cheese, & the Everything But The Bagel seasoning.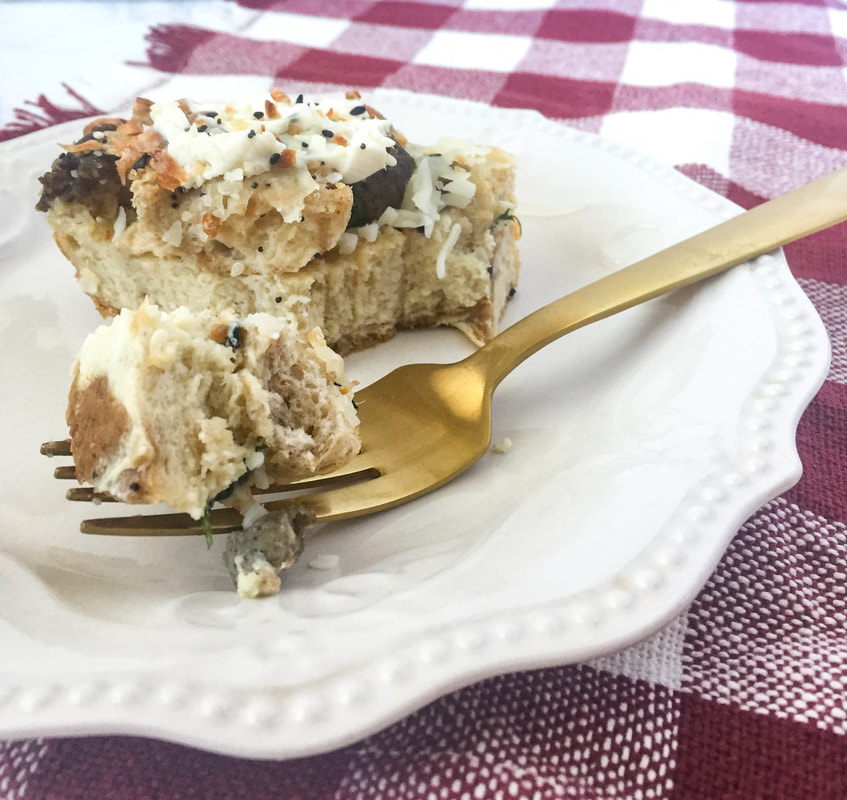 This recipe is easy and perfect for making ahead & eating the rest of the week. It especially comes in handy when you have some bagels that are going stale, but don't want to waste them. This casserole takes the basics of bread pudding & adds turkey sausage, baby spinach, mozzarella cheese, & cream cheese and combines it with the flavors of an everything bagel. Are you drooling yet?

It's the perfect combo of savory flavors that makes a filling breakfast dish. It breaks up the breakfast routine a bit & can double as a brunch or dinner option, too!
---
Everything Bagel Bread Pudding
Ingredients:
2 wheat bagels (3 cups torn)
½ lb turkey sausage
3 cups baby spinach
5 eggs
1 cup 1% milk
½ tsp Everything But The Bagel seasoning + more for topping
Salt & pepper, to taste
¼ cup shredded mozzarella cheese + more for topping
½ block of Neufchatel cheese

Directions:
Tear bagels into bite-sized pieces & put in greased 8 by 8" pan.
Brown turkey sausage in skillet & place on paper towel lined plate to drain.
Wilt spinach in skillet.
Top bagels with sausage, wilted spinach, & ¼ cup of mozzarella cheese.
Whisk eggs, milk, & Everything But The Bagel seasoning, salt, & pepper together. Pour overtop bagel mixture.
Top with more mozzarella cheese & seasoning. Place 9 pats of Neufchatel cheese evenly overtop.
Place in refrigerator for at least 1 hour or overnight.
Bake at 350 degrees for 40 minutes.
---
​Be sure to check out the other Recipe Redux dishes at the link below for some more delicious savory breakfast options!