Boost your gut health and strengthen your immune system with these hearty Wild Blueberry Almond Butter Breakfast Cookies.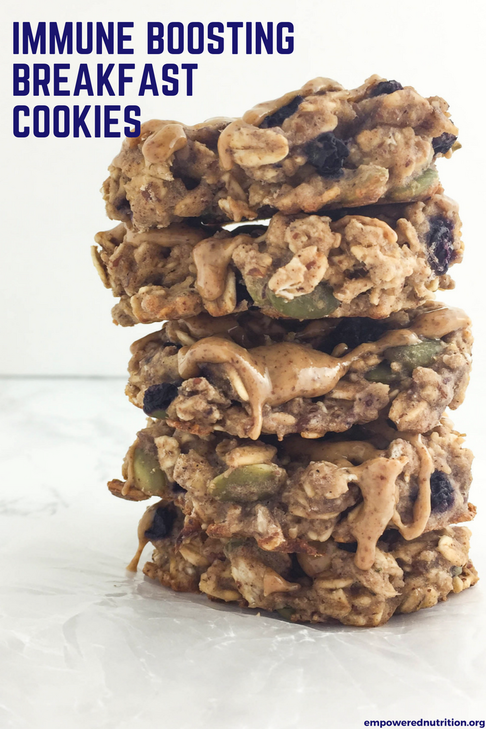 ​Cold and flu season is almost here. What many of us don't realize is that much of our immune health actually begins in the gut. This is one of the many reasons why boosting our gut health is important. This month's Recipe Redux challenge does just that! We were challenged to create our best recipe to bolster gut health and boost that immune system before all the sickness strikes!

My first thought when I hear the word gut health is probiotics. I think fermented foods, yogurt, kombucha. Cultivating gut health has been super popular this year and there are so many new probiotic foods on the market today. The often overlooked first part to gut health is prebiotics.
The difference between the two is that prebiotics are basically the food for the good bacteria to keep them alive and well, and probiotics are the actual good bacteria.
​Fruits, veggies, and whole grains are your typical sources of prebiotics. Some examples are bananas, apples (with the skin), beans, asparagus, garlic, onions, flaxseed, wheat bran, oats, Jerusalem artichokes, whole wheat products, chicory root. Now, while all prebiotics are fiber-containing foods, not all fiber-containing foods are prebiotics. They have to have the right (non-digestible) kind of fiber to be considered a prebiotic food.

On the other hand, some sources of probiotics are yogurt, kefir, tofu, tempeh, kimchi, sauerkraut, pickles, kombucha. So when we have this good balance of prebiotic foods to feed our gut bacteria and probiotic foods to be that good bacteria, we have a happy, healthy gut!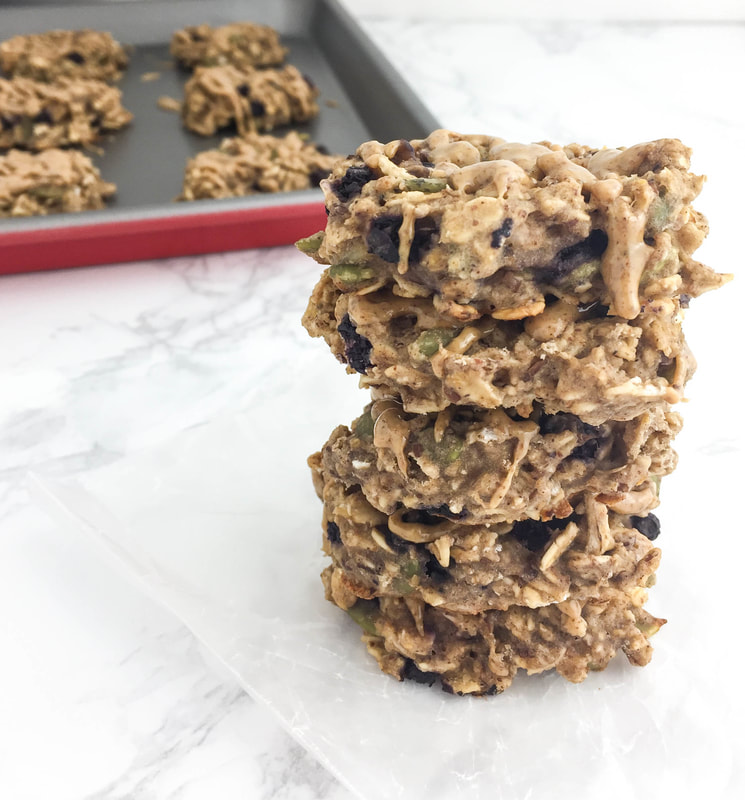 ​I've been really craving really hearty, breakfast-type cookies so I went for a high fiber cookie that's not too sweet and has a little boost of antioxidants too (for that extra immune support)! These Wild Blueberry Almond Butter Cookies are chewy, hearty, and the best part is you can make them on Sunday and eat them throughout the week as part of breakfast or snacks. I love make once, eat all week foods like this! I am hooked on using wild blueberries because they have 2x more antioxidants than regular blueberries, they have an intense blueberry flavor, and I can keep them on hand in my freezer. I also have a weird texture issue with regular blueberries, so since these are smaller I like them a lot better.
​Anyways….check out the recipe below and get boosting that immune health! P.S. don't forget to check out my fellow Recipe Redux-er's gut health boosting recipes, too!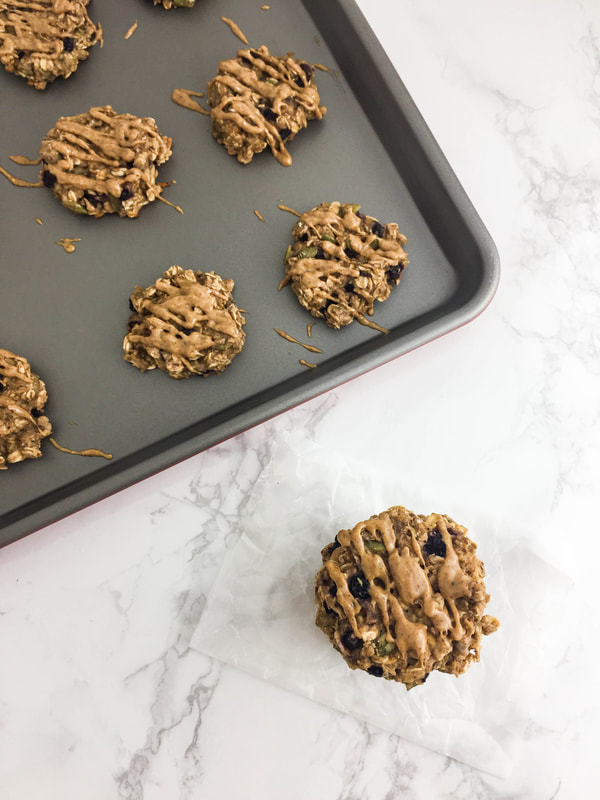 ---
Wild Blueberry Almond Butter Breakfast Cookies
Ingredients:
1 flax "egg" (1 Tbsp ground flaxseed + 2 ½ Tbsp water)
2 ¼ cups rolled oats
¾ cup oat flour (or whole wheat flour)
¼ cup pumpkin seeds (pepitas)
1 tsp baking powder
½ tsp cinnamon
¼ tsp salt
1 ripe banana, mashed
2 heaping Tbsp almond butter
1 Tbsp honey
½ cup milk
1 splash vanilla
1/2 – 3/4 cup frozen wild blueberries

Directions:
Preheat oven to 350 degrees.
In a small bowl combine flax and water. Set aside.
Combine all dry ingredients in a mixing bowl.
Combine banana, almond butter, honey, milk, and vanilla in a small bowl.
Add flax egg and wet ingredients into dry ingredients. Mix until combined.
Add frozen blueberries. Gently mix until evenly distributed.
Place dough on greased cookie sheet in tablespoon sized scoops, flatten slightly.
Bake for 12-15 minutes until golden brown. Let cool. Drizzle with extra almond butter.

Makes about 20 cookies.
Keep in an airtight container for up to 5 days.
---